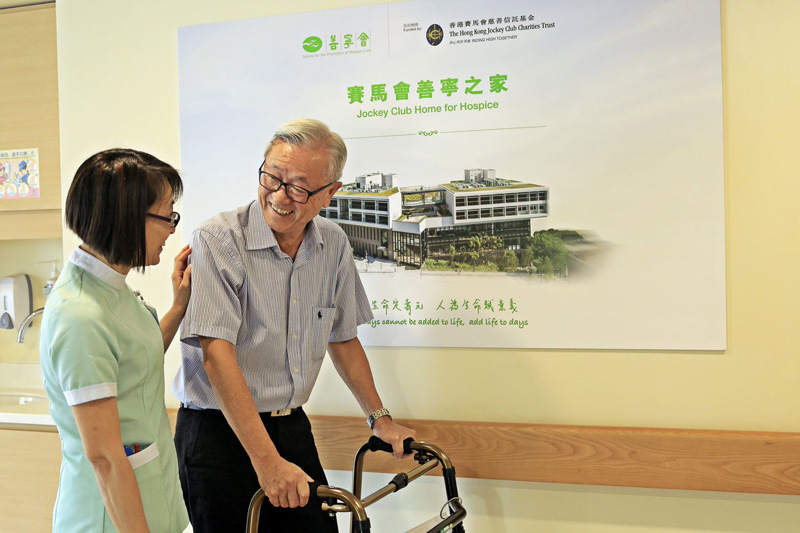 The Jockey Club Home for the Hospice (JCHH) provides specialized in-patient palliative care for people with advanced or life-limiting illnesses. We can help relieve your symptoms and address any psychosocial or caring issues brought on by your condition.
Service Scope
The Jockey Club Home for Hospice provides comprehensive palliative care for terminal patients.
Types of Beds
The Jockey Club Home for Hospice offers non-subsidized and subsidized independent suites that are ideal for patients to be accompanied by family members.
Admission Criteria
Admission to the Jockey Club Home for Hospice is open to all terminal patients, including those with:
Declining health condition
Life expectancy of one year or less
Preference for comfort care over active treatments
Request for Services
Online Application Download Form
Before Admission
You are ready to get care at JCHH, and we want to help make your admission process as smooth as possible. Your case manager (home care nurse) will make your reservation and guide you and your family throughout the entire process. Please do not hesitate to contact your case manager for clarification or supplementary information.
On Admission
When you arrive at JCHH, you may have some questions about what to expect during your stay. On admission, a fees overview will be provided by our Shroff Office to give you an understanding of your estimated hospitalization fees and payment process.
Don't forget to bring along your valid HK identity card / passport for your admission registration. You may also wish to pack the following items to make for a more comfortable stay at JCHH.
Intimates, pyjamas and comfortable sportswear
Closed slippers, preferably with a non-slip sole
Any necessary equipment or special devices (eyeglasses, hearing aids, wheelchair etc.)
Personal care items (toothbrush, comb, lotion etc.)
Each room will have a safe for you to store your valuables. However, we highly recommend for you to leave jewellery, credit cards, large sums of money and other valuables at home. JCHH will not assume responsibility for any theft, loss or damage of your personal property at the hospice. 
Infection Control Measures
To keep you and your loved ones safe during your stay at JCHH, we kindly ask everyone to observe the following infection control practices.
Always keep your hands clean with soap and water or alcohol-based hand rub.
Wear a surgical mask during your visit if you have any respiratory symptoms or conditions.
Avoid visiting the hospice if you have a fever or any type of illness and seek medical attention as soon as possible.
Patients suspected of or diagnosed with an infectious disease may be asked to follow specific infection control protocols to reduce the risk of cross-infection in the hospice.
Room Information and Charges
Room allocation will be based on clinical needs, room availability and other operational considerations of the in-patient unit. If your preferred room is unavailable, you may be asked to stay in a different room until your selection becomes available again. We apologize in advance for any inconvenience this may cause.
Lodger accommodation is available for all room types. We provide complimentary accommodations for one lodger; there will be a separate charge for each additional lodger.
Room charges will be billed at 12:00AM of each day. Regular nursing rounds are included in the daily room charge; other services such as nursing care, doctors' fees, diagnostic tests, drugs, ancillary treatment, consumables and meals are not included. There is a one-day minimum charge for the use of room accommodations. Please refer to Fee and Charges for more information.
Additional charges may be incurred if certain procedures and diagnostic tests are performed during non-office hours and public holidays.
Opening Hours
We understand the importance of family support, which is why we allow and encourage visitation at any time of day. Children and pets are more than welcome but must be properly supervised at all times.
Visiting hours: 24 hours
Shroff office: Monday to Saturday from 9:00AM to 5:30PM
Comments and Feedback
We want to hear your comments and feedback so that we can continue to improve our services! Patients, family members and caregivers are welcome to review their experience at JCHH by completing the Patient Feedback Form located in the information pack in your room. Once you have filled out the form, you can drop it off at one of the collection boxes around the hospice, or send us a soft copy via email at service@hospicecare.org.hk.
You may also contact the Department of Health at (852) 3107 8451 or orphf@dh.gov.hk to provide feedback on our services.
Getting to Jockey Club Home for Hospice
Please visit HERE for details.